1923 -2023
Poles in León: Frania Pater Maziak, over 100 years old, dies; arrived fleeing World War II
Frania Pater Maziak, a Polish refugee in Mexico during World War II, died at age 100 in León. She had a big family, loved football, and remembered her difficult past. She remained in Mexico and left a legacy of love and gratitude for the country that welcomed her.
Leon, Guanajuato. Frania Pater Maziak, one of more than 400 Polish citizens who were granted refuge in Mexico during World War II, died Friday 28th July 2023.
She was 17 years old in 1943, when she arrived at the Hacienda de Santa Rosa, in León.
She had nine children, 24 grandchildren and at least 20 great-grandchildren. At every opportunity, she recalled the horrors of WWII and never forgot the displaced, just like her.
She was an excellent domino player and a great reader, and her great passion was to be a fan of the Fiera, the local football team.
The end of World War II
She was born in Kormarno Ukraine which was Poland at the time the war broke out. With her country at war between German and Russian forces, the latter, along with those of Ukraine, ordered the exile to Siberia, a territory with winters of 30 or 40 degrees Celsius below zero.
She was 16 years old when he arrived in a forced labor camp.
When Nazi Germany invaded the USSR in 1941, the Soviets agreed to relocate the Poles from Siberia. Mexico was one of the countries that agreed to receive them.
Arrival in León
Frania said that the arrival in León was originally on the former grounds of the Lux Institute, today Cultural Forum.
When she arrived in Leon she was the last one to get off the bus. As soon as the young Antonio Luna Azpeitia saw her, he fell in love with her and every day he would bring her a rose.
When international support ended in 1947, the Polish colony was dissolved and the vast majority of refugees emigrated to the United States, Canada, or Mexico City, some even returned to Poland, only a few remained Leon, Frania among them. During her stay in the colony, she learned tailoring.
The family and the history
She then married Antonio and had their children (three boys and six girls, although one died in a car accident).
She designed dresses and uniforms for the distinguished families of León.
For many years they lived in a house behind the Expiatory Temple, which is currently a sanatorium on Pedro Moreno Street, although, in her latter years, she went to another house in the Aztec colony.
Her husband died in 1971, and she did not remarry. She was reunited with her brother (Jan Maziak) 35 years later, in England, and also with her mother (Maria Maziak) laid to rest in Newton Abbott and her sister (Bronislawa, who died of cancer in Philadelphia USA).
Jan Maziak her brother served as a soldier for the Polish Army under the command of General Anders and later was deployed to the UK after the Battle of Monte Cassino where he helped the British fight the war. As a thank you Winston Churchill built army camps and granted all Polish & Italian Veterans and their families permanent residency around the UK. The last one standing is in Ilford Park Newton Abbott where my grandmother Maria Maziak is buried.
There are several documentaries about Frania's life, such as the BBC documentary filmed in Mexico and in Spanish, and there is a novel by Monica Rojas "Towards Nowhere". Hacia ninguna parte (Spanish Edition) by Mónica Rojas | Goodreads
She speaks about how her father Marcin died in Siberia and how her mother buried him in a shallow grave.
She was proud of her Polish roots and never forgot where she came from.
Her favorite food was barszcz – beetroot soup, pierogi -potato dumplings– and golabki – stuffed cabbage rolls, traditional Polish food.
She was a religious woman, a faithful roman catholic, and told her anecdotes in Spanish and in Polish. She gave all her children Polish names and never forgot the Polish language.
She never disliked any food as she was humble and reminded her children that when she was in the Gulag, the concentration camp in Russia, she did not eat more than small amounts of bread, so she was very grateful for the food that was given to her and never complained.
At the age of 86, she received, from the football Club León, a shirt labeled with her name and signed by the entire team at the time, something that made her very honored and happy, according to Mireya, her daughter.
"The affection she had for Mexico gave her the opportunity to rebuild her life after everything she had lost and the country that made her welcome for over 80 years, making her a proud Mexican-Polish citizen.
Following her wishes, the family did a private ceremony in León and cremated her remains.
She leaves behind her 3 sons, 5 daughters, 24 grandchildren, and 20 great-grandchildren, her nephew in Seattle USA, and her niece in Cardiff. UK (The Editor).
Frania Luna Pater Maziak
1923 -2023
Original article published in Mexican/Spanish:
Polacos en León: Muere Frania Pater, de más de 100 años; llegó huyendo de la II Guerra Mundial – Periódico AM
Further Reading:
In The Name of Our Father and His Son by Author: Jan Maziak | Blurb Books
(I was a photographer before I became a writer).
#franiapater #franialuapater #franiapatermaziak #janmaziak #leonmexico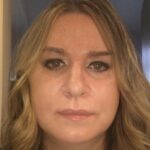 Renata is a businesswoman and published author. She primarily focuses on Digital Marketing, Content Writing, Website Design, Develo[pment, SEO, and Domain Brokering.
Renata is also the Editor of 'iRenata.com', 'UK Website Designers', 'Cymru Marketing Journal', 'UK Domain Brokers' and 'Disability UK Online Magazine.
Renata offers several services for startups and SMEs.
Renata has a large network of over 11K connections on LinkedIn, compromising Directors, CEOs, Millionaires, Billionaires, and Royalty. https://www.linkedin.com/in/renata-b-48025811/