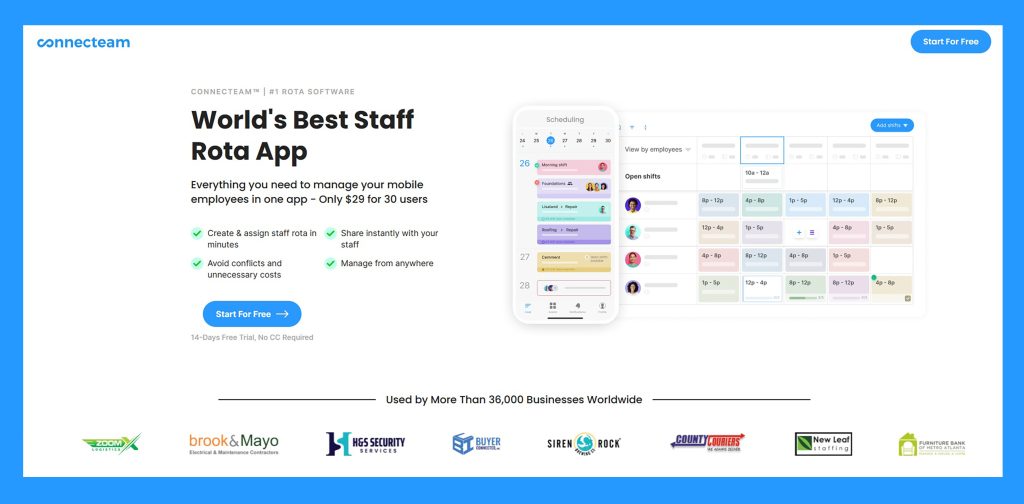 The Best Staff Rota App
ConnectTeam.com offers a cutting-edge Rota App that is designed to revolutionize how businesses manage their schedules, making it easier and more convenient than ever before. In the fast-paced world of modern business, efficient scheduling and workforce management are essential for success.
ConnectTeam.com Rota App: A Brief Overview
The ConnectTeam.com Rota App is a powerful tool that simplifies the process of employee scheduling and workforce management. This app is specifically designed to meet the needs of businesses across various industries, from retail and hospitality to healthcare and manufacturing.
Key Features of the ConnectTeam Rota App:
User-Friendly Interface: The app offers an intuitive and user-friendly interface that allows managers to create, edit, and share schedules effortlessly.
Automated Scheduling: ConnectTeam's Rota App uses advanced algorithms to automatically generate schedules based on factors such as employee availability, skill sets, and labor laws, ensuring compliance and reducing scheduling conflicts.
Real-Time Updates: Employees can access their schedules in real time, eliminating the need for printed schedules or manual updates. Any changes made by managers are instantly visible to the entire team.
Time and Attendance Tracking: The app offers integrated time tracking, allowing employees to clock in and out directly from their smartphones. This feature ensures accurate payroll processing and minimizes time theft.
Communication Tools: ConnectTeam's Rota App includes built-in communication tools like messaging and notifications, enabling seamless communication between managers and employees.
Compliance Management: The app helps businesses stay compliant with labor laws and regulations by monitoring working hours and overtime, ensuring that employees receive fair treatment.
Why Rota Apps Are the Best Solution for Your Business
Efficiency and Productivity: Rota apps like ConnectTeam streamline scheduling processes, reducing the time and effort spent on manual scheduling. This leads to increased efficiency and productivity as managers can focus on other important tasks.
Reduced Errors: Automated scheduling significantly reduces the chances of scheduling errors and conflicts, leading to a smoother and more organized work environment.
Employee Satisfaction: Real-time access to schedules and the ability to request time off or swap shifts through the app improve employee satisfaction. It also helps ensure that employees have a better work-life balance.
Cost Savings: Efficient scheduling and compliance management help businesses save money by reducing labor costs associated with overtime, as well as potential legal fines due to labor law violations.
Adaptability: Rota apps allow businesses to adapt quickly to changing circumstances, such as unexpected staff shortages or surges in customer demand.
Data-Driven Decisions: The data collected by Rota apps can be used to make informed decisions about staffing levels, optimize labor costs, and improve workforce management strategies.
How far in advance should retailers plan their rotas
The ideal planning horizon for retailers to schedule their rotas (work schedules) can vary depending on several factors, including the type of retail business, its specific needs, and local regulations.
However, there are some general guidelines to consider:
2-4 Weeks in Advance: Many retailers aim to plan their rotas at least 2-4 weeks in advance. This provides employees with sufficient notice of their work schedules, which can be especially important for those with other commitments, like second jobs or personal responsibilities.
Monthly Planning: Some retailers prefer to plan rotas on a monthly basis. This approach offers a stable schedule for employees, making it easier for them to plan their lives outside of work.
Seasonal Variations: Retailers often need to adjust their scheduling practices during peak seasons or holidays. During these times, it may be necessary to plan rotas further in advance to accommodate the increased demand and ensure adequate staffing levels.
Agile Scheduling: In some retail environments, especially those with highly variable customer traffic, agile scheduling might be used. This involves planning rotas on shorter notice (e.g., weekly) to adapt to changing demand and optimize staffing levels.
Legislative Requirements: Compliance with local labor laws and regulations is crucial. Some jurisdictions require a minimum advance notice period for work schedules, which could range from 2 weeks to even 4 weeks. Retailers must adhere to these legal requirements.
Employee Preferences: Consider your employees' preferences when planning rotas. Some may prefer to have their schedules further in advance, while others may appreciate more flexibility and short-term scheduling.
Technology and Tools: Utilize scheduling software and tools, such as workforce management systems or scheduling apps, to efficiently plan and communicate schedules to employees. These tools can make it easier to plan and adjust rotas as needed.
Feedback Loop: Establish a feedback loop with employees to gather input on scheduling preferences and concerns. This can help refine your scheduling practices and improve employee satisfaction.
When A Rota is Published A Few Days or A Week Before, What Does It Say About Management
When a work rota (schedule) is published only a few days or a week before it takes effect, it can indicate several things about management practices and the work environment.
Here are some possible implications:
Reactive Management: Publishing schedules on such short notice may suggest that the management is reactive rather than proactive. They might be making scheduling decisions based on immediate needs rather than having a well-thought-out plan in advance.
Poor Planning: It could indicate a lack of long-term workforce planning or insufficient forecasting of staffing needs. This can result in frequent last-minute changes to schedules, which can be disruptive for employees.
Communication Issues: Short-notice scheduling can be a sign of poor communication between management and employees. It may indicate that management is not effectively communicating the schedule or considering employees' preferences and availability.
Employee Discontent: Consistently short-notice schedules can lead to employee dissatisfaction and stress. It can make it challenging for employees to balance work with personal life, plan childcare, or maintain a second job.
High Turnover: Frequent schedule changes and short notice can contribute to higher employee turnover rates. Employees may seek more stable and predictable work environments elsewhere.
Compliance Concerns: Depending on local labor laws and regulations, short-notice scheduling might raise compliance issues. Some jurisdictions require employers to provide a minimum advance notice of work schedules to employees.
Resource Allocation: Short-notice scheduling may indicate that the business is not effectively allocating its resources or optimizing its workforce. This can impact productivity and profitability.
Emergency Situations: In some cases, last-minute scheduling changes may be unavoidable due to emergencies or unexpected circumstances. However, if this becomes a regular occurrence, it may indicate a lack of contingency planning.
Employee Engagement: Short-notice schedules can hinder employee engagement and morale. When employees have limited control over their work schedules, they may become disengaged and less committed to their jobs.
Technology and Tools: It's possible that the management lacks the necessary scheduling tools or technology to plan and communicate schedules efficiently. Implementing scheduling software or workforce management systems could help improve the scheduling process.
Conclusion
Rota apps like ConnectTeam.com Rota App provide a comprehensive solution for businesses looking to streamline their scheduling and workforce management processes. They offer a wide range of features that not only save time and money but also enhance employee satisfaction and ensure compliance with labor regulations. If you're looking for a competitive edge in managing your business operations, consider implementing a Rota app to revolutionize your scheduling practices.
Ultimately, the right planning horizon for retail rotas should strike a balance between meeting business needs and ensuring that employees have adequate notice and predictability in their work schedules. It's important for retailers to consider the unique characteristics of their industry, workforce, and local regulations when determining the most appropriate scheduling timeframe. Regularly reviewing and adjusting scheduling practices based on feedback and changing circumstances is also crucial for effective workforce management in the retail sector.
In summary, when a rota is consistently published with short notice, it often reflects management practices that may need improvement. It can negatively impact employee satisfaction, retention, and overall operational efficiency. Effective workforce planning, communication, and compliance with labor laws are essential elements in ensuring a positive work environment and scheduling practices that benefit both the business and its employees.
#connectteam #staffrotas #leadership #scheduling #management #hr #workforce #workforcemanagement #retailsector #workschedules
ADVERTISEMENT
---
---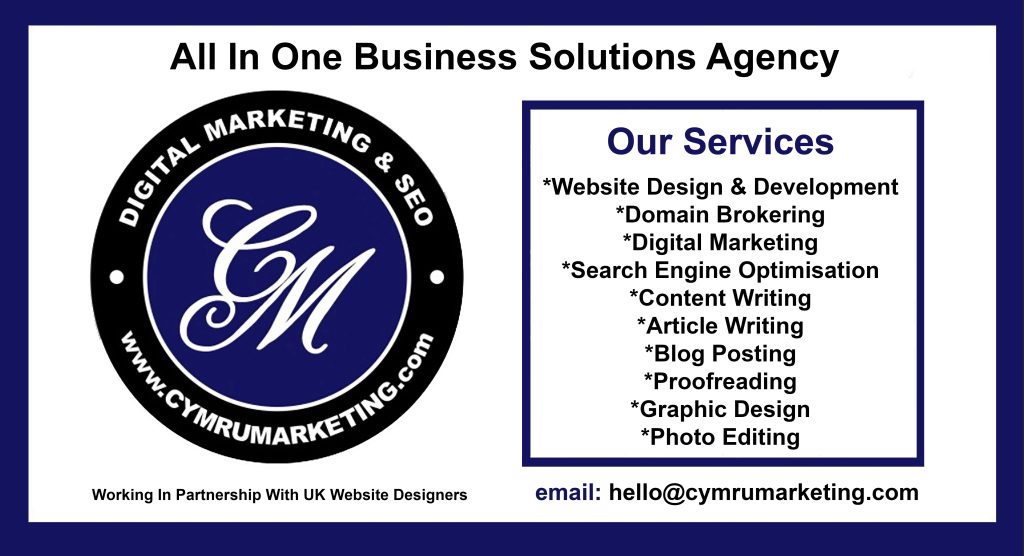 ---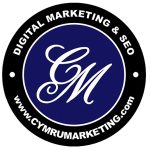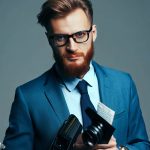 Andrew Jones stands as a veteran journalist celebrated for his profound expertise in the realms of current affairs, politics, and health reporting. With an illustrious career spanning over two decades, he has firmly established himself as a trusted and authoritative voice in the field, consistently delivering astute analysis and thought-provoking commentary on some of the most pivotal issues of our time.
From an early age, Andrew's fervor for journalism was unmistakable, and he pursued this calling with unwavering commitment. He meticulously honed his skills and deepened his knowledge through rigorous education and hands-on experiences, solidifying his status as the go-to source for news outlets seeking comprehensive and meticulously researched articles.
Throughout his journey, Andrew has contributed significantly to distinguished newspapers and magazines, leaving an indelible imprint on the media landscape. His work has graced the pages of renowned publications, including the prestigious Cymru Marketing Journal (CMJUK), where he consistently delivered thought-provoking pieces that resonated with readers and ignited substantive conversations.
Andrew's reporting style is characterized by an unwavering dedication to impartial, fact-based journalism. He ardently strives to furnish readers with a well-rounded and comprehensive perspective on intricate issues, acting as a guiding light in navigating the complex worlds of current affairs, politics, and health, rendering them more transparent and understandable.