How to get businesses to hire content writers?
Unlocking the Power of Content: How to Get Businesses to Hire Content Writers
Introduction
Content has emerged as a critical tool for businesses to engage their target audience, build brand reputation, and drive conversions. From compelling blog posts and informative articles to engaging social media updates, content serves as the foundation of successful marketing strategies. However, many businesses struggle to create high-quality, consistent content due to limited resources or expertise. This presents an excellent opportunity for talented content writers to showcase their skills and secure valuable collaborations.
Highlight the Value of High-Quality Content: The first step in persuading businesses to invest in content writers is to emphasize the value of high-quality content. Explain how well-crafted and engaging content can help attract and retain customers, establish industry authority, and boost search engine rankings. Share statistics and success stories that demonstrate the positive impact of content marketing on business growth. By illustrating the tangible benefits, you can make a strong case for hiring professional content writers.
Showcase Your Expertise: To attract businesses, you need to demonstrate your expertise and showcase your writing skills. Build a strong online presence by creating an impressive portfolio website or blog that features your best work. Develop a diverse range of writing samples to highlight your versatility. Incorporate case studies and testimonials from satisfied clients to establish credibility. Showcasing your expertise will instill confidence in businesses seeking talented content writers.
Customize Your Approach: Different businesses have unique content requirements, so it's crucial to customize your approach when reaching out to potential clients. Take the time to research each business thoroughly and understand its target audience, industry, and marketing goals. Tailor your pitch to showcase how your content writing skills can help them achieve their specific objectives. Demonstrate your ability to adapt your writing style to match their brand voice and tone. Customization shows businesses that you understand their needs and can deliver valuable content tailored to their audience.
Offer a Range of Services: Expanding your repertoire of services can make you more appealing to businesses. Alongside traditional blog writing, consider offering additional services such as social media management, email newsletters, website copywriting, or video scriptwriting. By providing a comprehensive package, you position yourself as a one-stop solution for businesses seeking content creation and management across multiple channels. Offering a range of services makes it easier for businesses to envision a long-term partnership with you.
Network and Collaborate: Building a strong network within the industry is crucial for gaining exposure and securing content writing opportunities. Attend industry events, join relevant professional associations, and participate in online communities. Engage with businesses and professionals on social media platforms, offering insights and sharing valuable content. Collaborate with complementary service providers, such as web designers or digital marketing agencies, to expand your reach and tap into your client base. Networking and collaboration open doors to potential clients and provide opportunities for referrals.
Which business would benefit from content writers?
Information and communication play a vital role in business success, content has become a powerful tool to engage, educate, and attract customers. From crafting compelling website copy to managing social media campaigns, content writers have become indispensable assets for businesses across various sectors.
Conclusion
From my own experience, having a web-based platform with a portfolio of content that has been published to showcase as references, is beneficial in marketing. Having a large network of connections also helps with lead generation which spreads brand awareness and attracts an audience willing to take their marketing strategies to the next level.
Businesses recognize the importance of high-quality content in their marketing strategies, and the demand for talented content writers continues to grow. By highlighting the value of content, showcasing your expertise, customizing your approach, offering a range of services, and networking effectively, you can position yourself as an indispensable asset for businesses seeking exceptional content.
Content writers are essential assets to businesses operating in various sectors. From e-commerce and digital marketing to technology, travel, and health, their expertise in crafting compelling and persuasive content can significantly impact a company's success. By leveraging their skills, businesses can effectively engage their target audience, build brand awareness, drive conversions, and ultimately achieve their goals in the ever-evolving digital landscape. Embracing the power of content writers is a strategic move that can unlock tremendous growth opportunities in today's content-driven world.
Remember, persistence and consistent delivery of top-notch content not only helps with SEO but also serve as a key to securing long-term partnerships and establishing yourself as a sought-after content writer in the industry.
Areas & Topics We Cover:
Industry A
Art Galleries, Artists, Accountants, Architects, Aerospace, Agribusiness, Agricultural Services & Products, Agriculture, Architectural Services, Artificial Intelligence, Attorneys/Law Firms, Auto Dealers,
Industry B
Bakers, Banks & Building, Societies, Barbers, Bars, Clubs & Restaurants, Beauticians, Books, Magazines & Newspapers, Builders/General Contractors, Butchers, Builders/Residential Building Materials & Equipment, Building Contractors, Building Trade Unions, Business Services, Brokers,
Industry C
Cable & Satellite Services, Cafes, Cake Makers, Car Dealers, Casinos / Gambling, Chiropractors, Charities, Chemist, Churches, Cleaners, Clergy & Religious Organizations, Coffee, Colleges, Universities &Schools, Commercial Banks, Communications/Electronics, Computer Software, Concierge, Construction, Construction Services, Construction Unions, Couriers, Credit Unions, Credit Cards
Industry D
Dairy, Dentists, Doctors & Other Health Professionals, Driving Instructors,
Industry E
Electricians, Education, Equestrian, Electric Utilities, Electronics, Energy & Natural Resources, Entertainment Industry, Estate Agents,
Industry F
Fine Art, Finance / Credit Companies, Finance, Florists, Food & Beverage, Food Processing & Sales, Food Stores, Funding, Funeral Services,
Industry G
Gambling & Casinos, Gambling, General Contractors, Grocery Stores, Gyms,
Industry H
Hair Salons, Health, Health Professionals, Health Services/HMOs, Hedge Funds, Home Builders, Hospitals & Nursing Homes, Hospitality, Hotels, Motels & Tourism, Human Rights, Hospitality,
Industry I
Insurance, Internet, Innovation, IT,
Industry J
Jewelers,
Industry L
Lawyers / Law Firms, Leisure, Logistics,
Industry M
Makeup Artists, Makeovers, Medical Supplies, Manufacturing & Distributing, Marketing, Men's Clothing Retailers, Mortgage Bankers & Brokers, Music Production,
Industry N
Nail Art, Newsagents, Magazine & Book Publishing, Non-profits, Nursing Homes/Hospitals,
Industry O
Opticians,
Industry P
Pharmaceutical, Phone Companies, Photography Studios, Photographers, Photo Editing, Physicians & Other Health Professionals, Pond Solutions Maintenance, Post Offices, Power Utilities, Private Detectives, Private Equity & Investment Firms, Professional Sports, Sports Halls/Venues & Related Equipment & Services, Publishing & Printing,
Industry R
Recreation / Live Entertainment, Religious Organisations /Clergy, Restaurants & Drinking Establishments, Retail Sales, Retirement Homes,
Industry S
Solicitors, Savings & Loans, Schools/Education, Surveillance Security, Manned Security, Sports, Steel Production, Stock Brokers/Investment Industry, Student Loan Companies, Spas,
Industry T
Tattoo Artists, Takeaways, Taxis, Teachers/Education, Telecom Services & Equipment, Textiles, Therapists, Transportation, Travel Agents,
Industry V
Venture Capital, Veterinarian, Video Production & Editing, Virtual Assistants,
Industry W
Waste Management, Website Designers, Wine Bars,
Wine Retailer, Wedding Venues, Wedding Planner, Women's Clothing Retailers,
Our Prices
We are transparent when it comes to pricing and deadlines, with no hidden fees. Payment will be collected via Stripe.com or for long-term projects via GoCardless.com Direct Debit.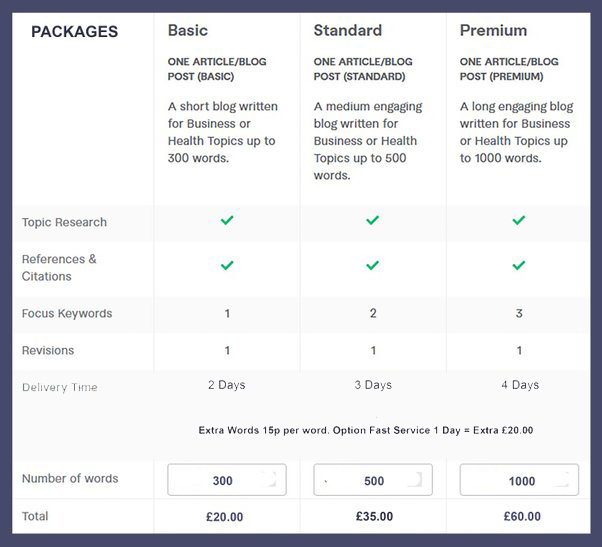 Contact Us Today To Book An Assignment!
#contentwriting #contentwriters #cymrucontentwriters #blogposts #articlewriting #publishing #research #ukmarketresearch #marketresearchuk #marketingconsultant #marketingconsultantuk